What You Can Do to Help
Write to the detainees
The address is provided below. Names and ISN#'s of the currently detained men are at the left of this page. Please also check out Andy Worthington's website for more personal information about the men detained in Guantánamo.
Name, ISN#
Non-Legal Mail
FPO, AA 34010-0001
Take Action to Close Guantánamo
Witness Against Torture is a movement, not an organization. We are a group of friends who started by walking to Guantánamo, and now we come together each year grudgingly, unwillingly, with trepidation and outrage. You are welcome to join our events and we really encourage everyone to join our annual fast for justice. If you are looking for something to do from home anytime. Here are 3 suggestions: Fast on Fridays, write and get to know the men, and call your representatives.
Learn About the Current Situation
If you're new to the issue, get to know the basics of the situation at Guantánamo. The US detention center at Guantánamo Bay has been open since Jan. 11, 2002. As of February 2023, 32 men remain imprisoned, 18 of whom are cleared for release. During the 21 years it's been open, less than 2% of the hundreds detained have been convicted of any crime.
Depending on how much time you've got on your hands, we recommend the following methods of educating yourself (listed from least to most time-consuming):
Get the latest numbers at the New York Times' Guantanamo Docket.
Watch a documentary, like Taxi to the Dark Side or Ghosts of Abu Ghraib.
Read a book written by a detainee or member of the military who was at Guantánamo. There are lots of options on our Resources page.
Sign Up for Our Mailing List
To get occasional updates about anti-torture events you can join, just put your info here and we'll keep you posted!

Organize a Street Protest
Witness Against Torture is represented by dozens of small groups across the United States who hold small, but meaningful vigils to raise awareness about Guantánamo, torture, and indefinite detention. You don't need to have a big group to do it. Just make some signs, find a well-trafficked area for high visibility, and hold a silent or vocal demonstration for an hour or two. Be prepared to speak to people about the issue if they ask you questions, and if you'd like to hand them a pamphlet with detailed information, you can download one from our Resources page.
Be sure to snap some photos and them to us, so we can publish them online to encourage other activists around the globe!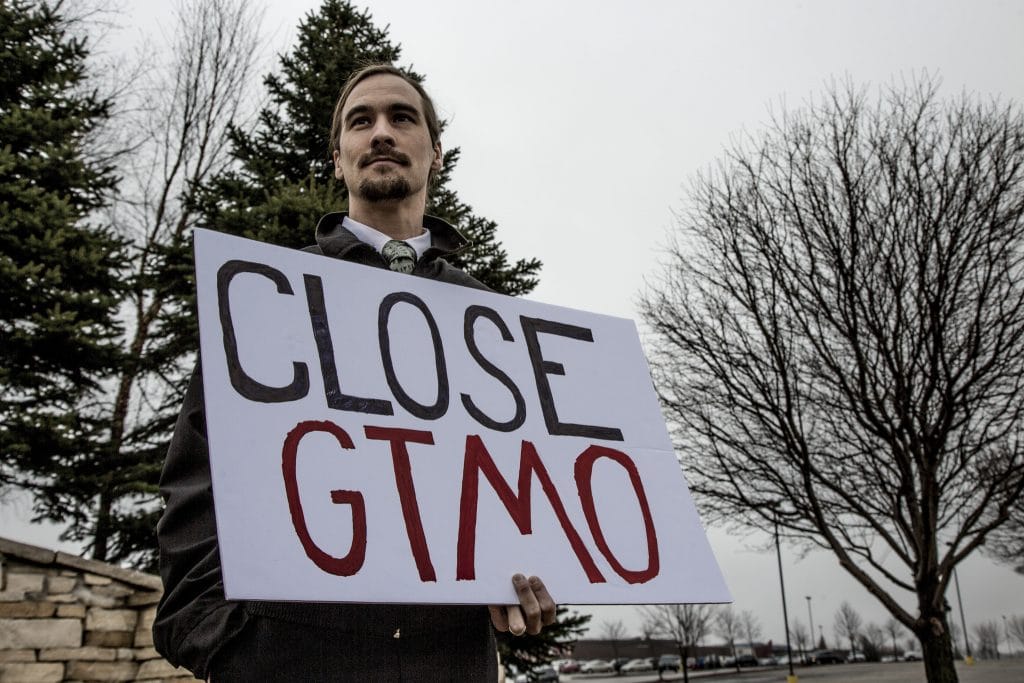 Hold a Film Screening
Several excellent films have been made about Guantánamo over the last 15 years, most of which are an excellent way to quickly educate others. Two of our favorites are Taxi to the Dark Side and Ghosts of Abu Ghraib.

Start a Book Study
If you want to dig deep into this heavy issue, it's always helpful to have a friend along to discuss it with. Some of us have started book studies for that purpose, and we've found the subject matter a bit easier to handle as a result. A fantastic book to start with is Clive Stafford Smith's Eight O'Clock Ferry to the Windward Side, which alternates between the stories of detainees and the author's own comparatively lighthearted experiences traveling to Cuba.
Fast on Fridays
There are many people in the U.S. and abroad who fast for 24 hours on Friday, in solidarity with the hunger strike happening in Guantánamo Bay. If you'd like more info, you can read a brief history of this group action, and find some reflections on fasting here.
Call Your Representatives
You can find your House and Senate representative's contact information here.
You can also call the White House (202-456-1111 or 202-456-1414), the US embassy in Cuba (305-326-2755) and Southern Command (305-437-1213), which oversees the running of the prison.
We have provided some talking points below. You can read our News updates and also follow us on Twitter and Facebook for more up to date information on what is happening at Guantánamo Bay Prison.
Each Guantánamo detainee must either be charged and fairly tried in federal court, or be released to countries that will respect their human rights.
Expedite the release of those that are cleared. 35 of the current prisoners have been cleared for release, yet they continue to languish behind bars. Justice delayed is justice denied.
Release the men who have been tortured. The US is a signatory of the UN Convention Against Torture. The UN Special Rapporteur on Torture has reported that the Guantánamo Bay prison is non-compliant to this Convention and has named indefinite detention as a form of cruel, inhuman, or degrading treatment. The U.S. Senate Intelligence Committee's Torture Report has extensively documented instances of torture by the CIA. Some of the victims are currently housed in Guantánamo.
Provide reasonable resettlement options, including torture treatment services and reparations. To ensure accountability for torture and indefinite detention, released prisoners should be provided with critical social services to facilitate their re-entry into society.
Publicly acknowledge and apologize for the egregious human rights violation at Guantánamo during the War on Terror. This acknowledgement is essential for preventing torture, indefinite detention, and other violations from being perpetrated by future administrations.
Close the base. The U.S. must immediately relinquish Cuba's sovereign territory.
Make a Donation
Witness Against Torture is an organization largely made up of volunteers. If you like what we do, please help us continue to fund our street protests, our web site, social media, films, photos, and more by making a donation.
If you'd rather not donate online, you can make a check out to Witness Against Torture and mail to:
New York Catholic Worker
Attn: Witness Against Torture
55 East Third Street
New York, NY 10003