From the Archive
Fast for Justice Day 1: Forgiveness Demands Accountability
Mohamed Ould Slahi left Guantanamo on October 17, 2016 after fourteen years of imprisonment there. He was held without charge and tortured.
Speaking of the torture, isolation, and loss he endured, he nevertheless forgives his captors. He says forgiveness is his inexhaustible resource. He maintains belief in the potential goodness of U.S. people.
Witness Against Torture began our first full day of fasting this morning by listening to Slahi's words and then hearing an op-ed that appeared in the morning's New York Times. The op-ed quotes President-elect Donald Trump who says that Guantanamo should be kept open. In February, 2016, while campaigning in Nevada he promised that "we're gonna load it up with some bad dudes."
Slahi, in this video, says: "I have no doubt that the good U.S. people will realize that holding innocent people in prison is not the way to go and will work for their release until every last innocent detainee has joined his family. I wholeheartedly forgive everyone who wronged me during my detention and I forgive because forgiveness is my inexhaustible resource."
Forgiveness demands accountability from U.S. people. Slahi's forgiveness places responsibility on our shoulders to carry on our activities until torture is decisively ended, its victims are fully acknowledged, Guantánamo and similar facilities are closed, and those who ordered and committed torture are held to account. Slahi hasn't said: forgive and forget
Today we began planning dramatic actions to remember the men who have died, those who are still detained and those who have been released and continue suffering from the trauma of their detention.
Through large and small group reflections, we are getting to know our neighbors and build community.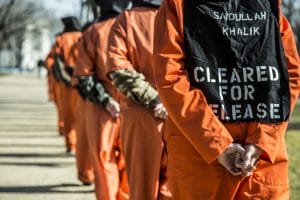 ​
Four Men will be released from Guantanamo Bay to Saudi Arabia
We celebrate the news that The United States will transfer four men to Saudi Arabia in the next 24 hours. We have heard that President Barack Obama will make a final push to shrink the inmate population before Trump takes office. Click here to read the story.
Witness Against Torture on Social Media
Please "like" us on Facebook & follow us on Twitter & Instagram.
Check out our latest news and updates on Tumblr.
Post any pictures of your local activities to our flickr account and we will help spread the word.
Donate to support our work
Witness Against Torture is completely volunteer driven and run. We have no paid staff, but do have expenses associated with our organizing work. We need your financial support. We are fiscally sponsored by the Washington Peace Center. The Washington Peace Center is a verified US-registered non profit.If you are able, click here to donate: