From the Archive
Day 1 WAT's Fast for Justice begins
Day 1 January 7,8 -The witness begins

***Please let us know if you would like to receive daily updates from the fast by sending an e-mail with "fast updates" in the subject to witnesstorture@gmail.com.

Witness Against Torture members began assembling in Washington, D.C. on Sunday evening, January 7. Matt Daloisio and Luke Nephew arrived in a van that Matt had carefully packed with twelve years worth of posters, banners, and other paraphernalia, along with sleeping bags, pillows, cups, winter clothing and other essentials for a week of fasting intended to close Guantanamo and abolish torture forever.
Matt spent close to an hour organizing the equipment and the posters. "He curates it," said Josie Setzler, recognizing that Matt alone seems to know what is packed in every box and stored at the Maryhouse Catholic Worker.  He organized a wall of past posters and flyers that offers a montage of WAT history.
In an opening circle reflection, Matt noted that many of the prisoners whose visages and names appeared on banners over the years have been released. In 2007, there were 430 prisoners in Guantanamo. Today, 41 men are imprisoned there. Matt mentioned that Shaker Aamer has been reunited with the son whom he had never met while imprisoned in Guantanamo. Mohammed Ould Slahi, author of Guantanamo Diary, has finally been released. These encouraging realities don't in the slightest diminish the urgency we feel in seeking the release of the 41 men still imprisoned in Guantanamo. Yet our sense of renewed purpose was heightened as Matt "curated" the stage, setting the scene for actions this week.
---
Early Monday morning, we met members of the Dorothy Day Catholic Worker at the Pentagon for their weekly vigil.  Art Laffin led us in the following Call and Response, as we greeted Pentagon workers hurrying into the building.  His words movingly framed our week's work.
Pentagon DDCW-WAT Vigil Statement/Litany by Art Laffin—January 8, 2018

Good Morning. We greet all Pentagon workers and police in a spirit of peace and nonviolence. We, members of the Dorothy Day CW and Witness Against Torture (WAT), come to the Pentagon, the center of warmaking on our planet, to say YES to life, love and justice, and NO to the death-dealing policies of a warmaking empire. God calls us to love our neighbor and to never mistreat, torture, kill and wage war against them. We witness in the hope that the Pentagon will one day be transformed into a center that serves life, not death!
Response: Torture is a Crime, Close Guantanamo Now!

WAT formed in 2005 when 25 Catholic Workers and other peacemakers from the U.S. went to Guantánamo Bay and attempted to visit the detention facility. For the last 12 years members of WAT have fasted and engaged in numerous nonviolent actions to call for the closing of Guantanamo. Today is the first day of WAT's week-long "Fast for Justice" to mark the 16th year of the first prisoners being taken to Guantanamo on January 11, 2002. We call for the closing of Guantanamo, and for an end to the crime of torture and indefinite detention.
Response:  Torture is a Crime, Close Guantanamo Now!

We remember and pray for all victims of U.S. torture and warmaking, including the 9 men who have died at Guantanamo since its opening. Adnan Latif was one of these men who have been all but forgotten. Latif, who spent more than ten years in Guantanamo without ever being charged with a crime, would often go on a hunger strike to protest his unjust confinement. A Yemeni citizen, poet, father and husband, Latif was subject to severe beatings, druggings and torture. He had been cleared for release at least four separate times, yet continued to be imprisoned. On September 8, 2012, Latif was found dead in his cell. No independent investigation has been conducted into his death. We call for an independent investigation into the death of Latif and the other eight who died at Guantanamo! Before he died Latif wrote the following words: "Where is the world to save us from torture?" Adnan Latif: we and many others hear your cry and that is why we are here today!
Response:  Torture is a Crime, Close Guantanamo Now!

The U.S. Senate Select Committee Intelligence Report on the CIA's Detention and Interrogation Program was released on December 9, 2014. The report details actions by CIA officials, including torturing prisoners, providing misleading or false information about classified CIA programs to the media, impeding government oversight and internal criticism, and mismanaging the program. It also revealed the existence of previously unknown detainees, that more detainees were subjected to harsher treatment than was previously disclosed, and that more forms of torture were used than previously disclosed. We call for accountability for the entire chain of command who are responsible for carrying out torture, including those who, ordered, perpetrated, approved and provided legal cover for the torture of detainees. In the name of the detainees who continue to be unjustly held at Guantanamo, we call on all who work at the Pentagon to implore President Trump to issue an executive order to close Guantanamo immediately!
Response:  Torture is a Crime, Close Guantanamo Now!

Today, 41 men continue to languish at Guantanamo enduring tortuous brutal confinement, most for the last 16 years, never knowing their fate, with no resolution to their cases in sight. We need to see these men as members' of our own blood family and act on their behalf.
Response:   Torture is a Crime, Close Guantanamo Now!

In today's scripture in the Catholic lectionary, the prophet Isaiah declares: "I, the Lord, have called you for the victory of justice…to bring out prisoners from confinement, and from the dungeon, those who live in darkness." (Is. 42: 6-7) What if we were to live as though this biblical mandate was a Divine summons for us to act on here and now, today? Now is the time to end the sin of torture and to proclaim liberty to the captives!
Response: Torture is a Crime, Close Guantanamo Now!

Please join us as we commit to resisting Islamophobia and all forms of oppression, and eradicating what Dr. King called the "triple evils of poverty, racism and militarism."  Together, let us strive to create the Beloved Community!
---
Lu Aya (Luke) Nephew offers the following poetic reflection on our experience.
The Pentagon, Sunrise
It's the darkest hour as we levitate out of the metro. Then a golden splash licks our eyes as we rise up.  We float across the sidewalk.  We glide into position. Swoosh.  We in formation.  Face to face with the mansion of murder.  Our eyes stare in unison.  Our silence faces theirs. Our presence flourishes up into song.  Their alibis dissolve into uncomfortable coughs.
Orange jumpsuits bellowing melancholy messages in all kinds of languages at the volume of the breeze through the leaves.  Fierce like that.  Recklessly righteous.  Soaring wing to wing with the heart-filled history of the Dorothy Day Community witnessing the wonders of creation.  Right here. On this very land. This very patch of precious earth that cradles us sweetly in defiance of all the empires ever.  What a sight we are to behold.  Our love so radical it is warming up the cold.
And then guess what happened next?
The miracles of human life that are currently confined in the tragedy of working in the pentagon begin to pass by the natural temple of our tableau.
And turns out –  they don't see the scene I described.
They see a bunch of beating hearts wearing activist uniforms doing activist things.
And you know what?
We couldn't quite see ourselves in the true light of the sunrise either…
We saw ourselves as tired workers, stumbling out of sleep into the freezing cold and bumbling with a bunch of signs.    Unable to untangle the mic chord or unfold the banner or take the echo out the amplifier. We saw ourselves fumbling into a good try.  A valiant effort. A good intention.  But actually.  Get this… we kinda loved each for it. and we kinda really deeply loved our families and friends and the detainees and their families and their friends and all the other families and friends. We kinda loved. A little bit.
And that little bit of love was a smooth stone deep in the forest that reminds the weary traveler of the path back home.
And without realizing that we had just reminded each other where to walk while alive, we set off. Together.
In the right direction.
And we might never see what really happened.
Until everyone. everyone gets home.
And from there
From home… a golden splash licks our eyes as we rise up.
---
Khalid Qassim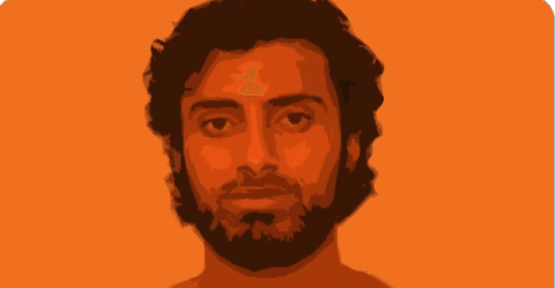 At the Pentagon Chris Spicer-Hankle lifted up the name of Khalid Qassim, a Yemeni detainee still at Guantanamo.  Later in the morning we received a message from Khalid's attorney at Reprieve.  She sent us images of  Khalid's moving artwork from the exhibit Ode to the Sea at John Jay College of Criminal Justice in New York until January 26, 2018.  See these images on our Facebook page.  Read Khalid's bio on the Reprieve website.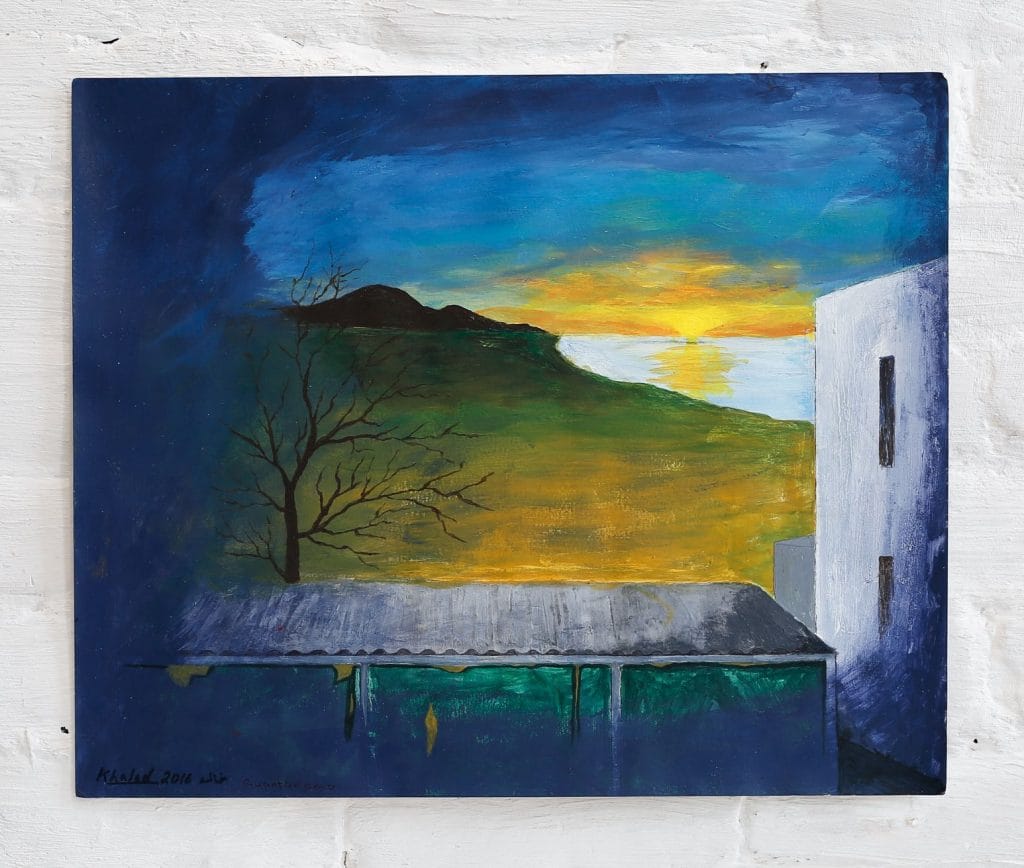 ---
Monday turned into a rainy day in DC, a perfect day to work hard on our action planning.  Please stay tuned this week as our actions unfold.  We offer you our heartfelt gratitude for sharing this journey in solidarity with the men in Guantanamo and prisoners everywhere.
---
Witness Against Torture on Social Media:
Please "like" us on Facebook & follow us on Twitter & Instagram.
Post any pictures of your local activities to our Flickr account and we will help spread the word.
Donate to support our work:
Witness Against Torture is completely volunteer driven and run. We have no paid staff, but do have expenses associated with our organizing work. If you are able, click here to donate.